Founder and President
Rabbi Boruch B. Bender

Chairman of The Board
Shulie Wolman

Trustees
Lloyd Keilson
Ronald Lowinger

Treasurer
Alan Botwinick C.P.A.

Executive Board
Dovid Bloom
Alan Botwinick
Shlomo Z. Gutfreund
Moti Hellman
Lloyd Keilson
Moshe Schreiber
Aron Solomon
Shulie Wolman

Board of Directors
Moshe Bloom
Jay Gellman
Carmi Gruenbaum
Rabbi Dovid Greenblatt
Meir Krengel
Michael Krengel
Aroni Parnes
Menachem Pollack
Rabbi Aron Rosenberg
Asher Schoor
Josh Szpilzinger
Joel Yarmak

Intake Coordinator
Esther Novak

Health Insurance
Department
Sruly Miller

Mental Health
Department
Coordinator
Dr. Brucha
Lowinger, Psy. D.

Development Coordinator
Eli Weiss

Administrative
Assistant
Elke Rubin


Office Assistant
Chani Weinberger

Volunteer Services
Shalom  Jaroslawicz

Bereavement/Crisis
Counseling
Zahava Farbman, CSW

Legal Counsel
B. David Schreiber, Esq.
Yosef H. Kanner, Esq.

Insurance Consultant
Carmi Gruenbaum

Government
Relations Liaison
Michael Fragin

Achiezer was established in 2009 at the behest of local rabbinic and community leaders who saw a need for change. These visionaries dreamed of creating one master organization, which would completely remove the burden of crisis management from the shoulders of shocked and distressed victims. They dreamed of an organization that would be there for the entire community—at any time, for any difficulty, large or small.

They dreamed of Achiezer.

Achiezer is a unique organization, which combines the strengths of all existing communal resources along with its own formidable capabilities. Achiezer spearheads and coordinates the many different aspects involved in assisting individuals and families confronted by challenges, from start to finish.

Whether the situation calls for medical, financial, emotional, or practical support, Achiezer's team of medical, mental health, and other professionals enables clients to access the assistance that they need in a caring, professional, and confidential fashion.

Working with the community, for the community, Achiezer provides unparalleled support throughout the duration of any difficult time.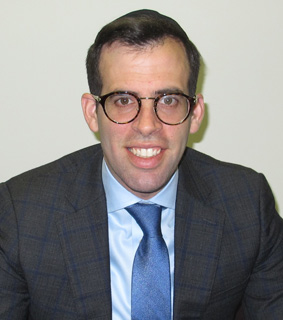 Founder and President
Rabbi Boruch B. Bender